We're often asked "is there any point investing in SEO – isn't SEO dead?" The simple answer is that as long as search engines exist and consumers are using search engines to find content then SEO is worth your while. Search engine optimisation is still one of the most cost-effective marketing techniques, one that will help generate sustainable results and drive direct bookings. Here are our top tips and a FREE checklist for mastering your hotel website SEO.
The land of search changes all the time. The way users search and the way search engines rank and display your content continues to evolve. Go back 10 years and searches were simplistic and generally two to three words long like "hotel in Brisbane", fast forward to today and the vast majority of search queries are 4 to 5+ keywords long.
The style of the searches has also changed, it's become a lot more conversational, a change that's driven by the rise of voice search. Instead of "hotel in Brisbane" we are now searching for "what is the best hotel to stay in Brisbane with a dog" or "where is the best place to stay near me?"
What is SEO?
SEO stands for Search Engine Optimisation. SEO is the process of optimising a website so that search engines will find and rank your site above others in the organic search results. Your aim is to rank on the first page of the search results for relevant key search words and phrases.
Why is it important to rank on the first page of google?
Because 90% of users won't go past the first page of results in Google. If your hotel appears on the second results page, then only 5% of users will find you.
Where to Start with Your Hotel Website SEO
There is a whole raft of things that impact your hotel website's SEO that are not related to the content and that will require more effort and potentially investment. Things like a responsive website design, an easy to use website navigation, the existence of a sitemap, the presence of a robot.txt file, and in-bound linking strategy and a proper schema markup will also improve your SEO.
However, the easiest and first place to start if you're a hotel marketer and you want to improve your website ranking is to start with the on-page elements and the content of your site.
Keyword Research
First things first, start of by researching your keywords, and create a list of the most important search words and phrases for your hotel.
Free tools you can use for your SEO keyword research are Google Search Trends and Google Adwords Keyword Planner. Another way to quickly see what travellers are searching for when searching for your location, your hotel or your competitor hotel is to take advantage of Google's predictive search feature. Start by typing a keyword in Google, then see what comes up or scroll down on the results page and look at the Related Searches.

It's important that you keep your list targeted and relevant specific to your hotel. Its harder to rank for very generic keywords like "Sydney hotel", but more achievable to rank for more specific keywords like "hotel in Sydney with rooftop bar". So, think about what your target audience is looking for? Why are they choosing you over your competitor? Use these insights to optimise your target keyword list and let this drive your website SEO efforts.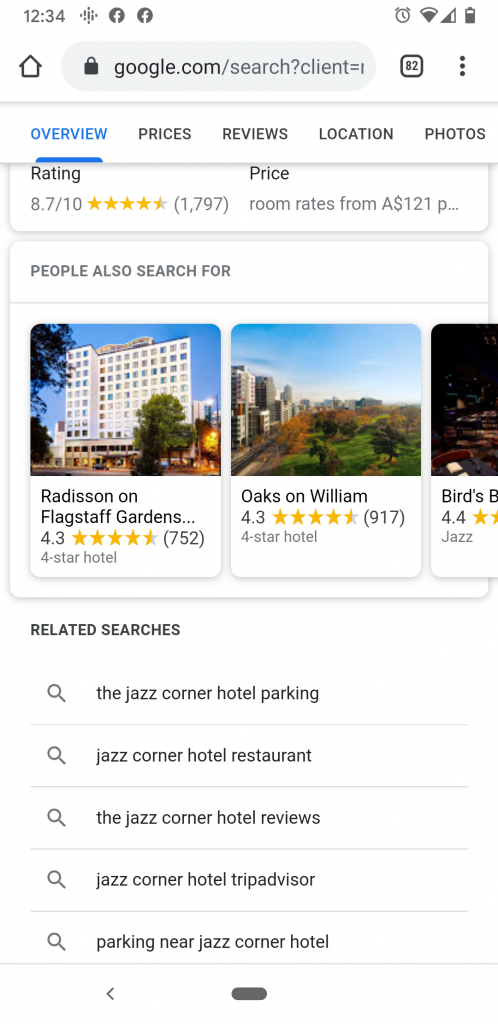 A good way to see what branded searches users are using to find your hotel and to see what other hotels they're visiting or comparing you to is by typing in your hotel brand name into the search bar on chrome on your mobile device. Then scroll to the bottom of the page where you will find a list of "people also search for" showing you who you're competing with and a list of "related searches".
FREE Hotel Website SEO Checklist
Now that you've established your keyword list (by the way…these are not static – make sure to review and add to your set periodically) it's time to optimise your website:
Create new content and optimise existing content
Add relevant Internal and External links
Rename images and add image alt tags for all your site's images
Add or update every page's meta title and meta description
Create SEO friendly URLs
To help you master your hotel website's SEO we have created a comprehensive SEO checklist that you can download for FREE. All you need to do now is roll up your sleeves and work your way through your website.
---
ABOUT NUVHO
Nuvho is a Hotel Services & Management Company focused on revenue generation for hoteliers. We offer outsourcing, training and support in the areas of Sales, Marketing, Revenue, Yield & Distribution Management.
We also offer one of the best and most cost-effective booking engines on the market. It features an in-built OTA price comparison tool and has a proven high conversion rate, achieving between 5% to 7% for our hotel clients. The system integrates with most PMS and channel management systems.