Whether you're starting out from scratch or you're looking to optimise you existing marketing activities, these are five of the essential online marketing tools and activities that every hotel should have in place.
1. A Great Website
Your hotel website is like the billboard, brochure and shop front for your property. This is the place where potential guests will learn about your hotel and decide whether or not to book a stay with you. Make sure your website has useful information about your hotel, its services but also about the location and what the area has to offer. Room descriptions, list of features and inclusions should be comprehensive and displayed alongside quality photos and video. Ensure that the copy and the design reflect the personality of your hotel and service.
Your website is also your most cost-effective sales channel, where you generate direct bookings without paying any commission. So apart from having good content its crucial your site has a user-friendly booking engine.
It goes without saying that your website and your booking engine need to be 100% mobile / tablet friendly, as most internet research and travel bookings are now done on mobile devices.
2. Hotel Business Listing on Google
Google is still the world's number One search engine. The majority of travel research originates here. So, it's important you cover all the Google bases.
A Google My Business Listing is a free online listing you can create for your hotel that includes all the essential information about your hotel including contact details and location for travellers searching for accommodation on Google.
The listings appear on Google Maps and in the Google Search Results on the right-hand side on desktop and at the top of the page underneath the paid ad spots on mobile.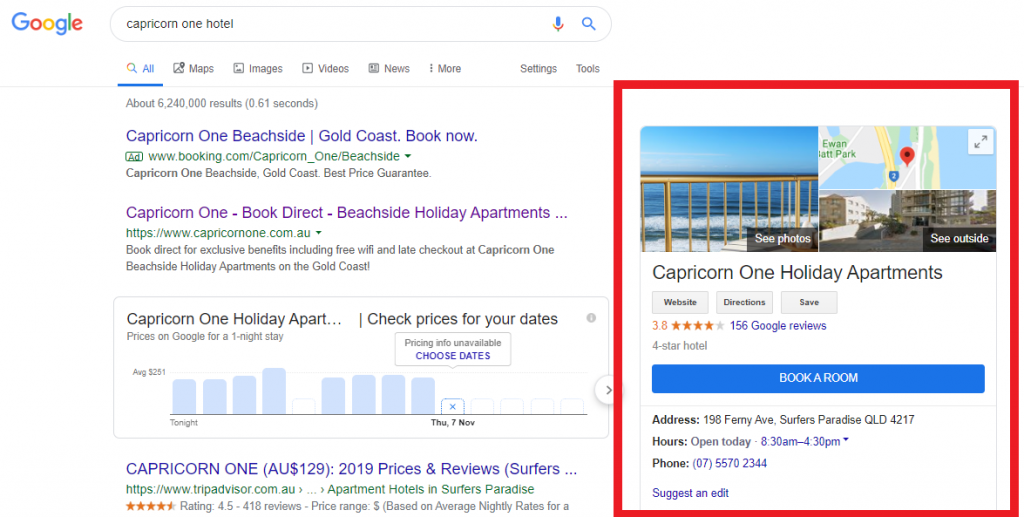 Being listed will not only make your hotel discoverable, it'll also help with your search-engine rankings.
Setting up a listing is quick and easy. Be comprehensive in the descriptions and hotel attributes and upload quality photos and videos.
In order to maximise your results, it is best to review you listing frequently to answer potential guests' questions and respond to Google Customer Reviews.
3. Social Media
Social media marketing is crucial in the promotion of your hotel. With 1 billion active users on Instagram and 2.4 billion active users on Facebook, these two channels give businesses plenty opportunity to interact with their audience and to promote their business.
Although social media is proven to drive traffic to your hotel website, and generate direct bookings, you have to make sure the content that you post is not all about pushing bookings and making sales as this will annoy your followers.
Platforms like Facebook and Instagram are a great way to engage with existing and inspire new customers. Both platforms are ideal for sharing visual content (photos, videos, carousels, live-videos) about your hotel, events and attractions of the local area. Make sure your posts are relevant to your brand and resonate with your guests.
Here are 10 content ideas that you can implement for your hotel's social media:
Events that are held in your destination
Popular cafes & restaurants, tours and attractions in the local area
Facts about your hotels' destination
User-generated content, invite your guests to post a photo with a dedicated hashtag and repost your guests' content
Charity events that your hotel or hotel staff are involved with
News about your hotel: renovations, new menus, activities, services etc
Media articles and awards for your hotel
Customer testimonials
Behind the scenes of your hotel operations
Travel tips and hacks
4. TripAdvisor & Guest Reviews
TripAdvisor is the world's largest travel site with over 8 million listings for hotels, restaurants, vacation rentals and attractions, 490 million users and 760 million reviews and opinions. It is clear that with so many users globally, TripAdvisor is key in your digital marketing strategy
TripAdvisor has earned it's popularity as an unbiased platform, which customers use in their decision-making process. Not only is TripAdvisor a free tool for your customers to review and rate your hotel, it also provides you the opportunity to build relationships with your customers by responding to their reviews on the platform.
The reviews, when positive, act as Word of Mouth – the most effective and trusted form of advertising. Even reviews that are not positive present an opportunity for your hotel to highlight how you're addressing the issues and showcase that you care about the guests' experience and feedback, which new potential guests will value.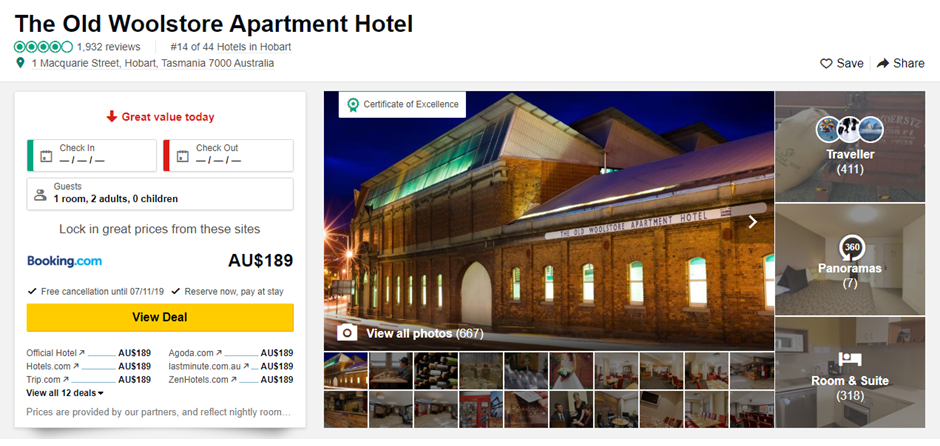 As a hotel it also gives an indication about the quality of your product/service compared to others in the area. It is a great source to collect information for the ongoing improvements of your property. Make sure that the customer ratings and response rates are part of your hotels management team's KPIs.
Get started here by setting up your accommodation on TripAdvisor
5. Email Marketing
With the rise of social media many are forgetting about the power of email as a marketing tool. It is still one of the mediums with the highest conversion rate. Even better, email marketing requires little to no capital investment, so there's no reason for you not to get your email marketing sorted. These are four types of emails that every hotelier should be sending out:
1. The 'welcome' email. The user has just showed interest in your hotel by signing up, don't let them wait to hear from you. Automate a welcome message and include a time-limited offer to create urgency to book.
2. Send out a monthly newsletter with exclusive offers to your email database and keep past guests updated on what's new at your hotel and in your destination.
3. Interact with your guests before check-in by sending them helpful tips and relevant details for their stay with you. Ideal timing for pre-arrival up-sell emails is 2 to 4 days before check-in.
4. Confirmation emails see some of the highest open and engagement rates, so use this opportunity to up-sell and cross promote services and products. Welcome emails sent to guests upon check-in also record great open rates, use this email to promote in-house services such as the Spa or Restaurant Specials.
---
ABOUT NUVHO
Nuvho is a Hotel Services & Management Company focused on revenue generation for hoteliers. We offer outsourcing, training and support in the areas of Sales, Marketing, Revenue, Yield & Distribution Management.
We also offer one of the best and most cost-effective booking engines on the market. It features an in-built OTA price comparison tool and has a proven high conversion rate, achieving between 5% to 7% for our hotel clients. The system integrates with most PMS and channel management systems.