Good hotel distribution is about balance and working with multiple offline and online channels, as well as multiple distribution partners. Hoteliers should aim to promote their most profitable channels; however, it is unrealistic to think that consumers would only search and book direct and that direct channels are always the most profitable.
In this post I will focus on online hotel distribution and more specifically how to choose which distributors to work with.
Research has shown that most travellers commence their search for accommodation on OTAs (Online Travel Agency) and / or Metasearch engines. Metaphorically, hoteliers are paying online distributors for displaying their properties on the travel sections of the Yellow Pages of the 21st century. OTAs and Metasearch Engines provide exposure, visibility, reach and bookings from international and domestic travellers, who in turn, are looking for convenience and have little or no interest to spend hours finding and researching individual hotel websites.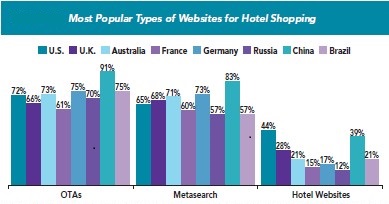 As a Hotel Revenue Distribution Manager, the most common question I'm asked is: "what's the best way to increase my hotel revenue?" The answer is complicated and dependent on individual variants, but at a very top level, it's about capturing the highest paying travellers, in the right way, on the right channel, at the right time. Each hotel is different in that equation and the choice of the right distribution partners is critical.
How to determine which OTAs to work with?
I recommend hoteliers to leverage all channels including the reach of the Expedia Groups and Booking.coms of the world. Beside these two juggernauts, which other OTA partners should hoteliers work with?
My first point of call is data and we are lucky enough in our industry to have plenty of it. I start with an analysis of the hotel source markets and its market segmentation. In other words, where are guests coming from and who are they? I would also look at the hotel's market statistics and look at potential types of travellers that are staying in the destination, but the hotel is not getting its fair share of. The key question here is: how can the hotel reach and convert more travellers? This analysis will help define which distribution partners might be useful.
Source Markets
Most of Nuvho's hotel clients are based in Australia, which as a country has a relatively small population. Therefor the Australian hospitality industry depends greatly on International travellers, who represent a significant amount of the room nights.
The latest data shows that International Visitor numbers to Australia are growing, that an International traveller pay an average of 10% higher daily rates, stay 0.5 days longer and book 35-plus days in advance.
As such, in order to reach these travellers, independent hoteliers need support online from key OTAs and other distributors with a strong footprint in key international source markets. These OTAs offer hoteliers exposure and booking capabilities to capture guests from specific source markets.
For example, hoteliers listing their properties on Ctrip in China, HRS in Germany, or Turu.ru in Russia will invariably increase their chances to generate room nights from these source markets at a relatively low cost in terms of real marketing dollars.
Market Segments
Online distributors can help reach different types of consumers and new market segments. OTAs often have strong affiliate networks and provide booking capabilities for destination visitor centres, airline frequent flyer programs, travel management companies, corporate companies, retail travel agents, and many other types of businesses that attract travellers.
It is important for hoteliers to understand specific OTAs' affiliate networks and find ways to take advantage of the benefits they could provide. This require hoteliers to spend time and efforts developing strong relationships with OTA market managers and evaluate what type of value proposition they could distribute for travellers in each of these affiliate segments.
Commissions
Whilst commissions are part and parcel of the OTA game, not every OTA charge the same remuneration. Many smaller OTAs have cheaper commission levels in comparison to the largest online distributors.
The smaller OTAs production might be lower; however, I recommend hoteliers to also work with cheaper distributors in order to lower their blended cost of distribution. If you save 5% commission on a small number of bookings, it is still a saving!
Besides, these smaller OTAs must differentiate and find a niche to compete and remain in business. So not only are they cheaper, they can also help generate marketing exposure, visibility and consumer reach in niche market segments.
Systems
Finally, in order to maximise reach and exposure hoteliers need to choose the right channel management system that links into their booking system and connects their rates and inventory to a wide selection of distribution partners. A hotel distribution channel manager is an online management solution, which allows the hotelier to centralise all of their different distribution channels all in the one place.
---
ABOUT NUVHO
Nuvho is a Hotel Services & Management Company focused on revenue generation for hoteliers. We offer outsourcing, training and support in the areas of Sales, Marketing, Revenue, Yield & Distribution Management.
We also offer one of the best and most cost-effective booking engines on the market. It features an in-built OTA price comparison tool and has a proven high conversion rate, achieving between 5% to 7% for our hotel clients. The system integrates with most PMS and channel management systems.